EXPERIENCE ANOTHER LEVEL OF COMFORT AND BREATHABILITY
Enjoy comfort in even more sizes with the introduction of the EPIC Compact Series from noblechairs. Designed for users between 125 cm (4ft 1in) and 170 cm (5ft 7in) with a weight limit of up to 120 kg (265 lbs), the range of materials and colors makes it the perfect option for people looking for that same high-end noblechairs quality and experience in a more compact size.
Built around our new synchronous mechanism, we offer users even more ergonomic and adjustment features than ever before. If it's a long day in the office, at the desk for learning, or an extended gaming session, the EPIC Compact, with its multitude of adjustment options, makes sure you're experiencing maximum comfort in style at all times.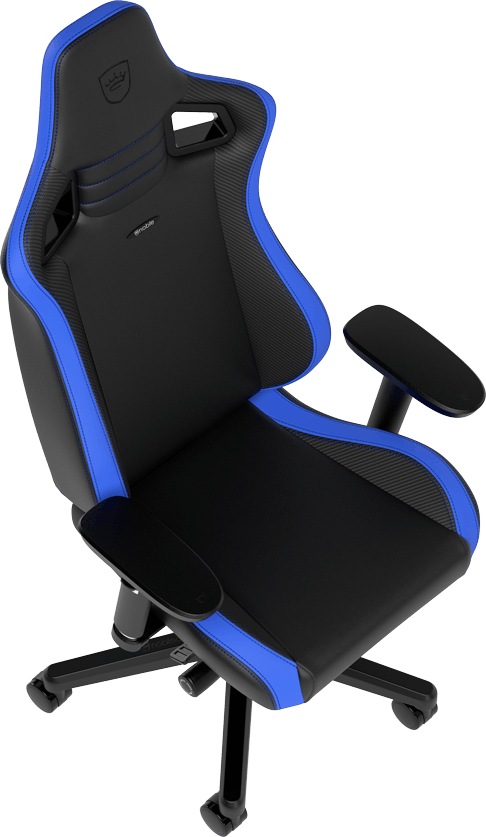 DYNAMIC SEATING EXPERIENCE
Find the position that best suits you, thanks to our synchronous mechanism. Offering a range of adjustments and movements, the EPIC Compact is the perfect chair for you in any situation thanks to:
Adjustable Seat Depth
Synchronized backrest and seat base movement
Locking mechanism to stay in place
Synchro tension adjustment
Moving with your body, the EPIC Compact ensures a healthy posture for extended periods no matter the position.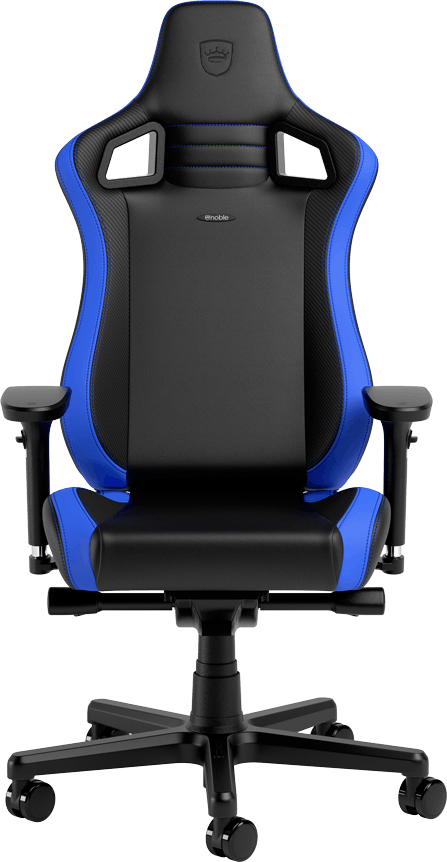 HIGHLY SUSTAINABLE PU LEATHER MATERIAL
Manufactured in Germany and exported for production of the EPIC Compact PU Series, our newest PU Leather is highly sustainable thanks to its composition, which is 80% made from Renewable and Natural Raw Materials.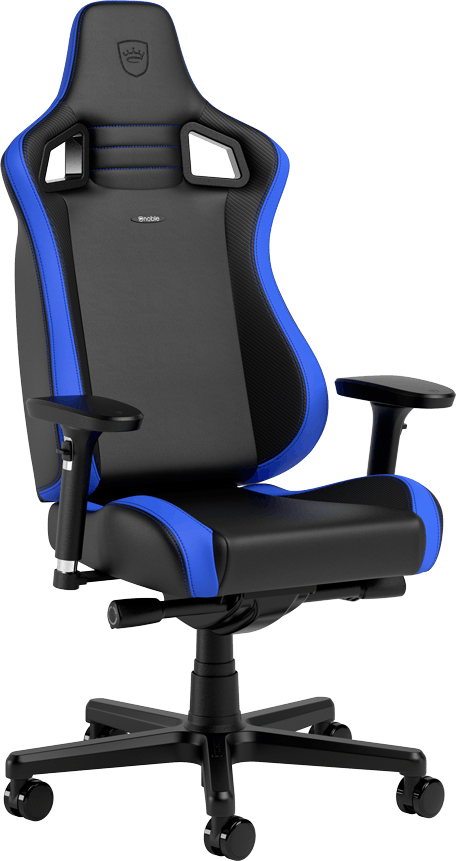 SEAT DEPTH ADJUSTMENT
With the EPIC Compact and its Seat Depth Adjustability option offered via the new synchronous mechanism, users can enjoy the flexibility of finding the perfect seat depth. With a simple lever, users can adjust the position of the seat base, making sure that any unnecessary pressure on the thighs is alleviated.
Thanks to this added flexibility, users can enjoy more options when supporting the lower body, ensuring the perfect position is found.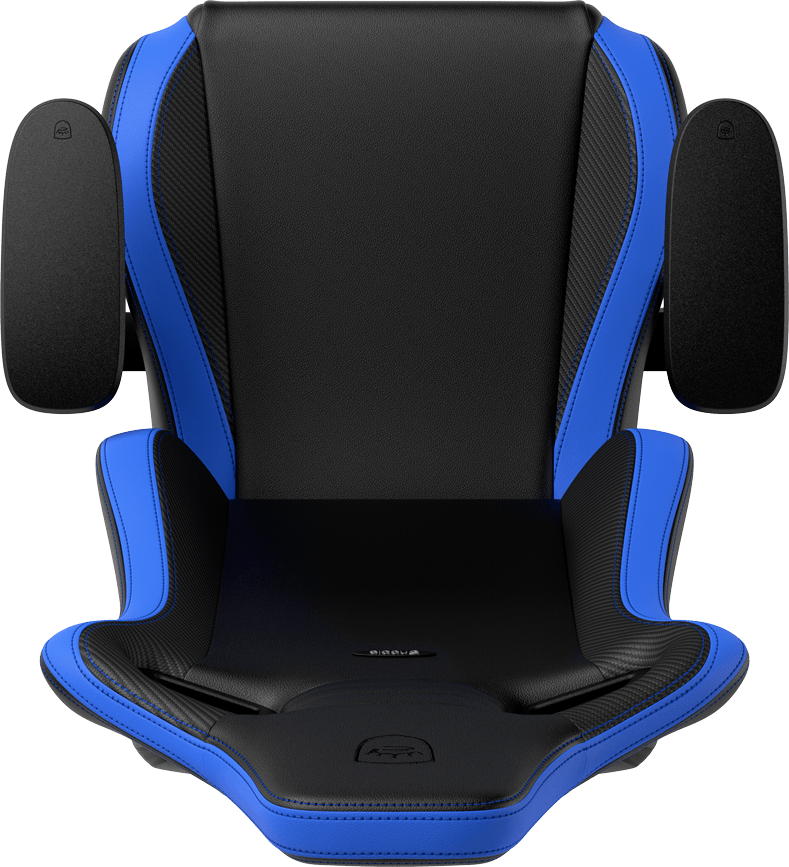 THE PINNACLE OF COMFORTABLE GAMING CHAIRS
The noblechairs EPIC Series is the work of our German design team alongside esport professionals who demand comfort and support for extended periods. Together, we've created an award-winning, uncontested, ergonomic, and feature-rich seating experience.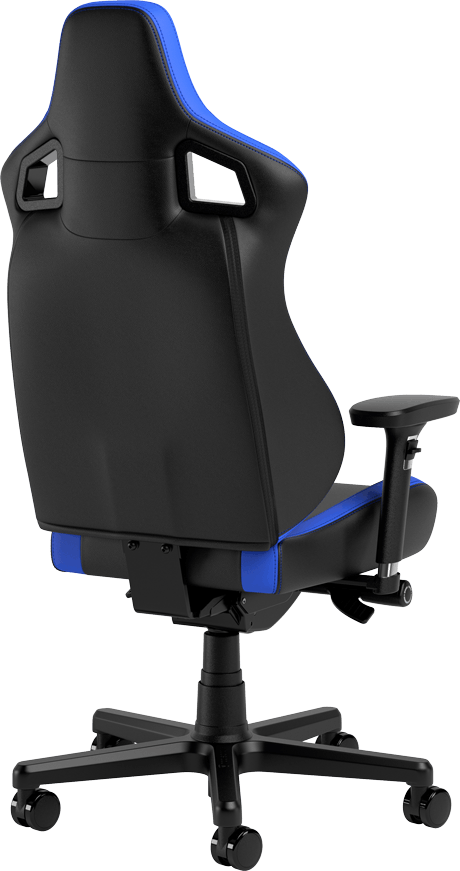 UNDISPUTED EHA AWARD WINNER
Since the European Hardware Association (EHA) established the Gaming Chair Category in 2017, noblechairs has achieved a flawless run for five years as voted by the most prominent tech sites across Europe.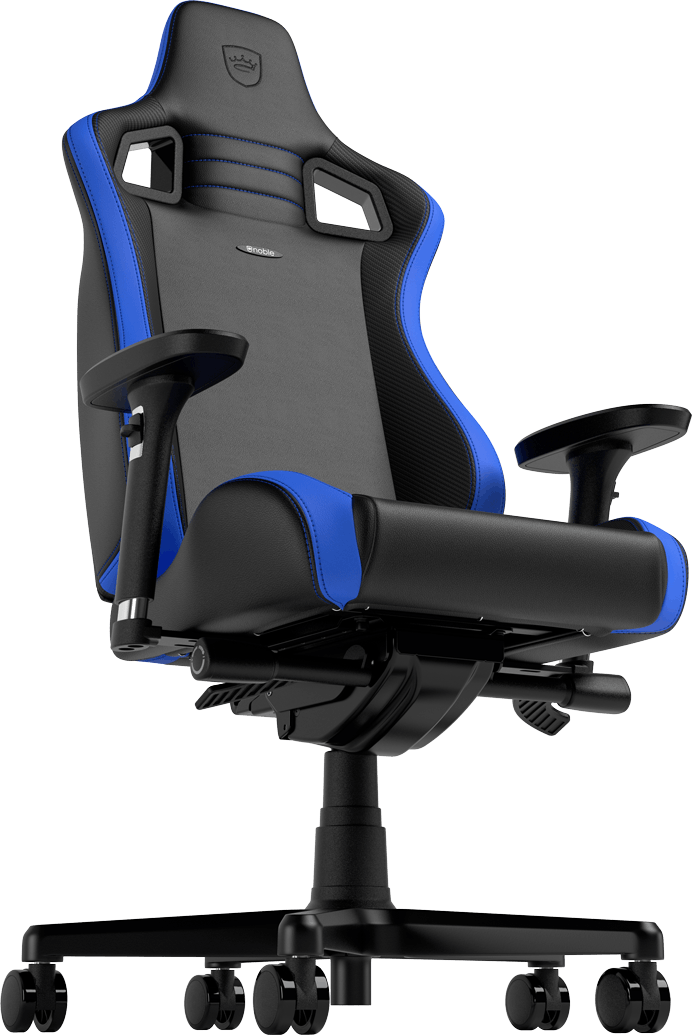 PRECISION MANUFACTURING
Introduced at the creation of the brand, noblechairs continues the proud tradition of using an advanced machine-only manufacturing process with the EPIC Compact Series. As seen in the automotive industry, specialized robotic arms paired with robust steel forge the perfect frame for maximum durability. Together with our various upholstery options, which are cut and stitched using industrial machinery, you're experiencing the very finest quality both inside and out, letting you rest easy.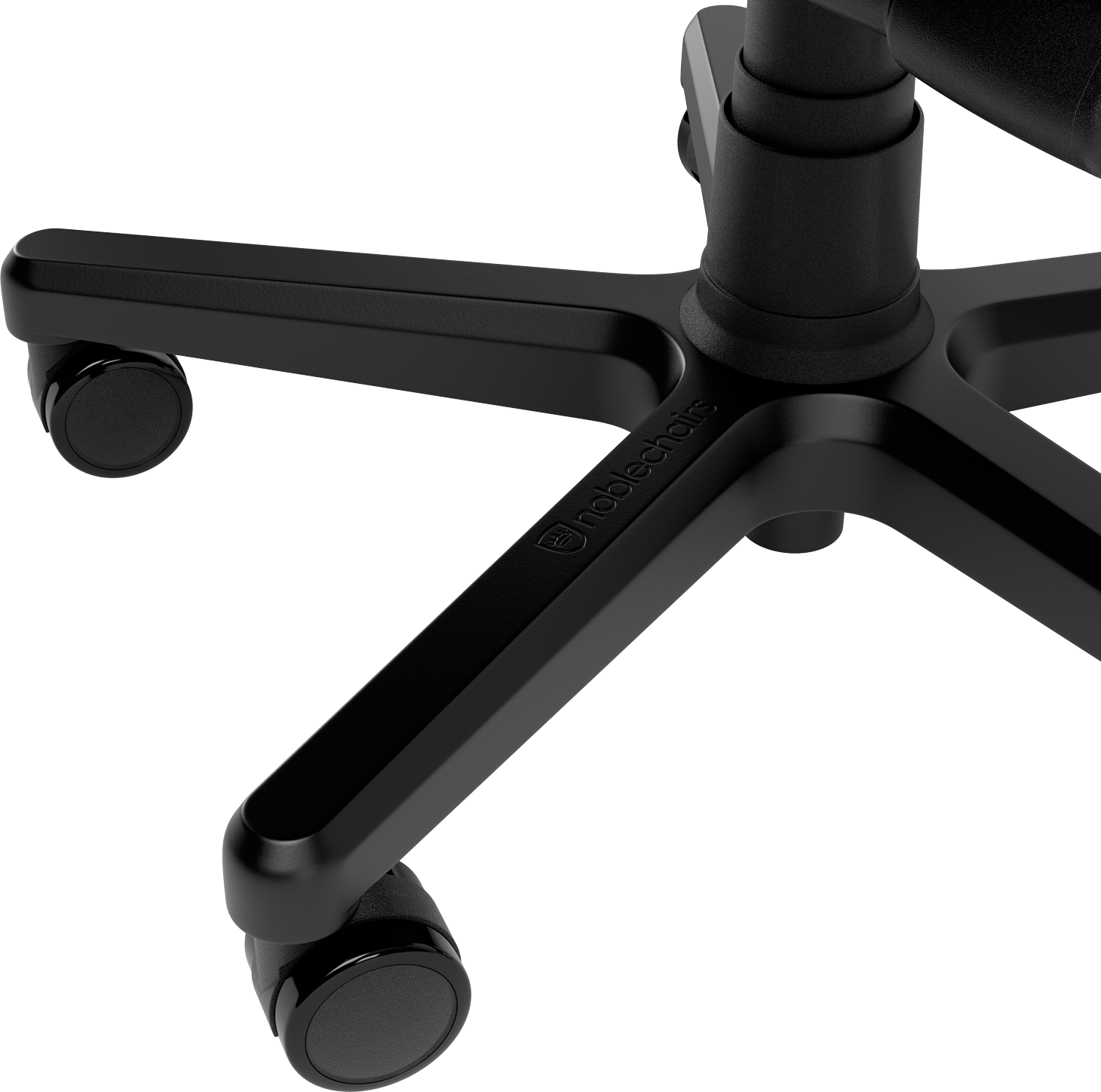 DESIGNED FOR HARD & SOFT FLOORING
The foundation of the EPIC Compact Series from noblechairs is the powder-coated wheelbase made from solid aluminum with five arms and specially designed castors. These 60mm castors consist of a Nylon core with a polyurethane coating that allows them to be quiet and suited for hard and soft flooring. Combined with the Safety Class 4 gas lift, the EPIC Compact Series has been designed in conjunction with the optimized base to offer support for a maximum load of up to 120 kg (265 lbs).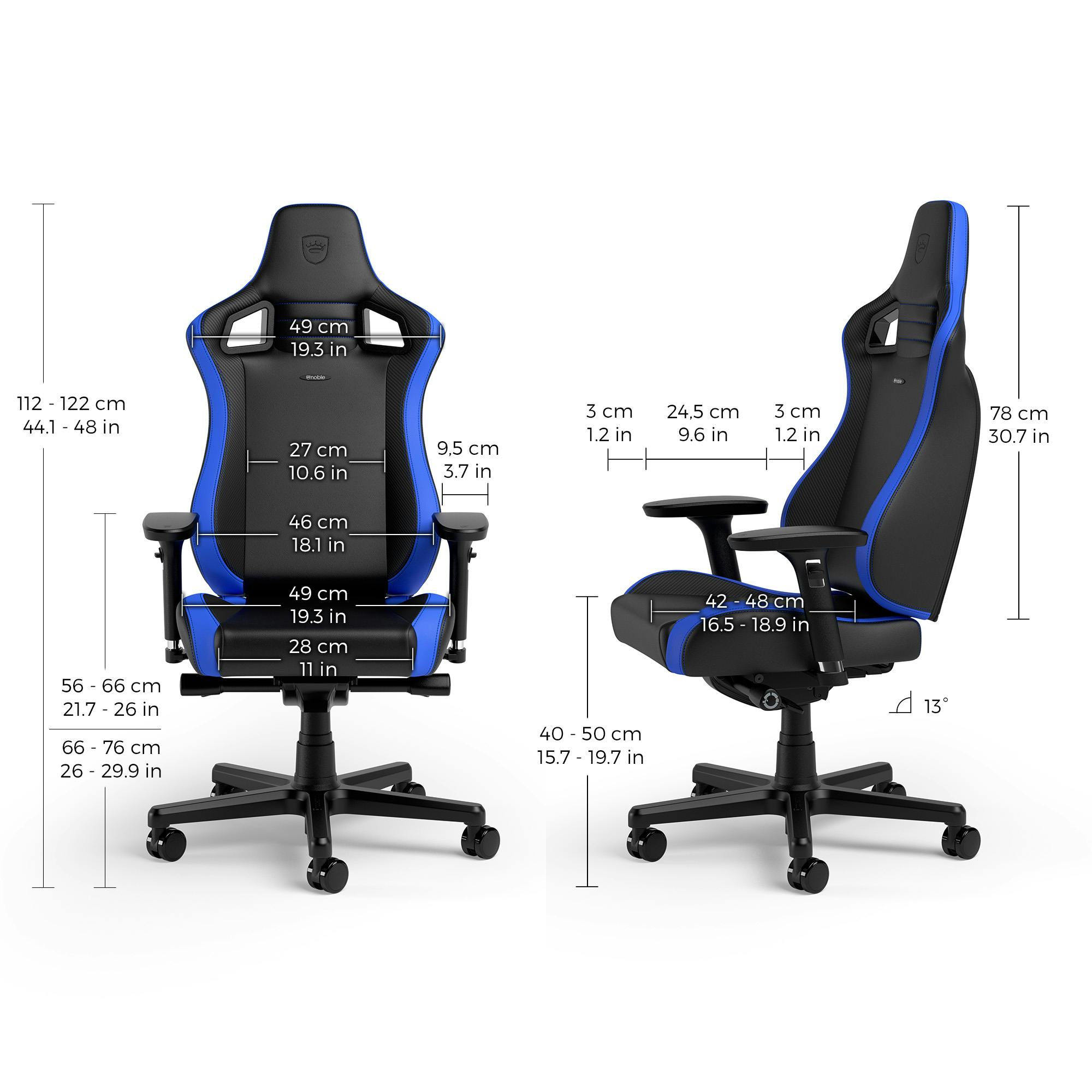 SPECIFICATIONS
Seat angle (max. 13°)
Back angle (90 – 112°)
Seat slider movement (58mm)
3D Armrests for versatile adjustability
Seath depth adjustment option: 6 cm
BIFMA Certification
Breathable fabric or PU leather covering
Two comfortable pillows included
Deform resistant cold foam
Durable hydraulic gas lift (Class 4)
Robust aluminium base
60mm casters suitable for hard and soft flooring
Robust steel frame
Max load of up to 120kg (265 lbs)
Manufacturer's warranty: 2 Years (EU / NA)
Weight approx. ca. 23,3 kg/ 51.4 lbs
RECOMMENDED FOR USERS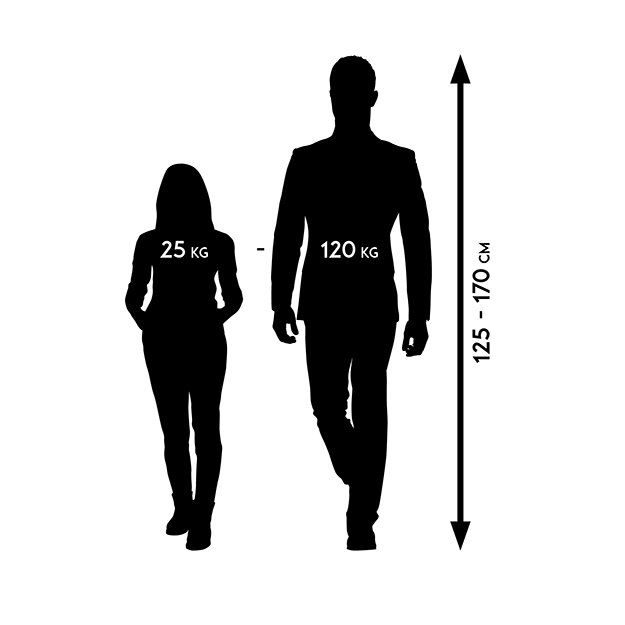 MATERIAL
Steel (frame)
Cold foam (inner cushioning)
Highly Sustainable PU Leather Material (80% Renewable/Natural Raw materials) (Cover)
Fulfills toys safety standard DIN EN 71-3 (PU Cover only)
Aluminium (base)
Fulfills toys safety standard DIN EN 71-3 (PU Cover only)
Nylon / polyurethane (casters)
Polyurethane (armrests)
Velour (pillow covers)